Want to test how your body responds to our supplements? For free?
Daily nutritional support helping you to prevent vitamin and mineral deficiencies. Specifically formulated for after digestive cancer surgery
Feel more energized to get back to your old routine, after your surgery

Improve your immune system

Experience better concentration and reduced hairloss
Want to see, taste, and test our supplements before you order a larger supply? We completely understand. 
Step 1. Select your type of surgery
Stomach
Oesophagus
Pancreas
3. Get your starterkit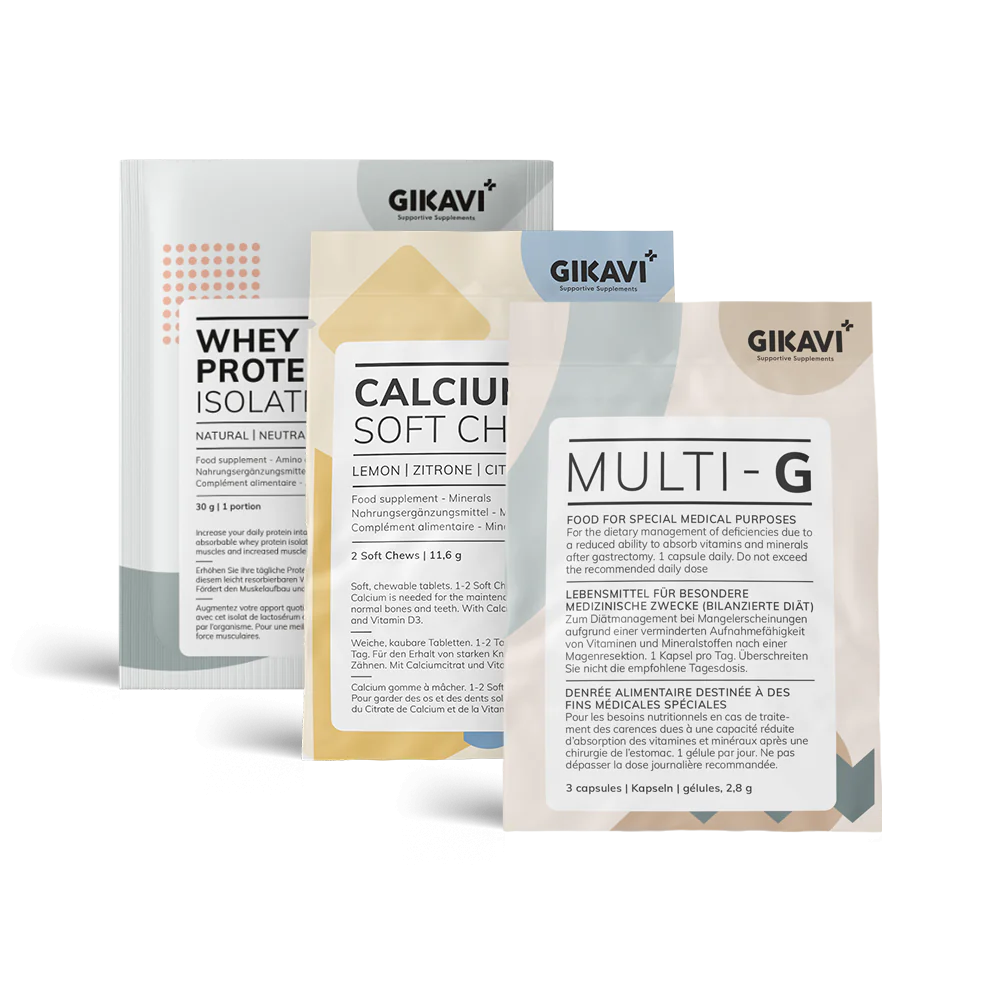 Trial package
You will receive a one day supply
3 pcs. Multi G

30 grams of Whey Protein Isolate
Want to test how you body responds? Try Gikavi for free!
Order a starter pack to try our Multis, Calcium Soft Chews and Whey Protein Isolate.
Expert advice by phone
When you order a starter pack, you automatically order free advice by phone with one of our nutritionists. A couple of days after you receive your package, we will call you to discuss your experiences, to give advice and to answer possible questions.
More information
Contents and Usage
Deliveries and returns
More information
Daily support after surgery
When your oesophagus, stomach or pancreas has been (partially) removed, your digestive tract changes drastically so your body has a reduced ability to absorb nutrients. The possible result: an essential vitamins and minerals deficiency. To make sure the body functions well, it is important to supplement your diet every day. To supplement your nutrition, you can use Gikavi Multis, possibly supplemented by calcium and protein products.
Contents and Usage
Deliveries and returns
Frequently Asked Questions and Answers
Because of the permanent changes of your body (as a result of the surgery), your body is no longer capable of absorbing the right amount of vitamins and minerals. That is why we recommend using the Multis every day.
Taking supplements after resection is needed because your body is less capable of absorbing vitamins and minerals. This is called malabsorption. The most important causes are:
– A smaller stomach: makes sure you can eat less. It also means that your body absorbs less nutrients from the foods you take.
– Food intolerance: a possible complication after the surgery is food intolerance. Some people no longer tolerate certain foods, such as red meat and dairy, which contain a lot of protein, vitamin B12 and iron.
– No/smaller production of gastric acid: gastric acid makes sure vitamins and minerals are extracted from your foods.
– No/smaller production of intrinsic factor: intrinsic factor is a type of protein that transports vitamin B12 and enables its active absorption.
The Multi P and Multi G are 2.2 cm. The Multi E is about 2 cm. If you find it hard to swallow, you can also open the capsule. You can then still take the contents of the capsule, for example by mixing it with a little sugar-free apple or fruit sauce.
Do you need help, or would you like personal advice? Please call 0031 10 309 18 00 or send an email. We are happy to help you.